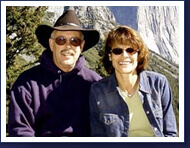 Eagle One Services, LLC, is a professional property inspection company that specializes in residential, pre-listing and annual maintenance property inspections. We also offer tenant move-in/move-out, moisture intrusion investigations using infrared photography and construction defect documentation. The company is currently serving the Santa Clara, San Mateo and portions of Alameda counties.
Jeff Frishof, is the President and founder of Eagle One Services LLC, formerly known as Eagle One Inspections. The company has been in business for over 25 years and has thousands of satisfied clients. Just how qualified is Jeff? Check out his many professional association credentials!
The purchase of your new home is probably the biggest investment you and your family will make and its impact can have a lasting effect. If it's your first home, the process can be confusing and at times overwhelming. With the high cost of homes in the San Francisco Bay Area, the decisions involved can seem stressful. A professional home inspection is a must whether the home is brand-new or 50-plus years old. By hiring Eagle One Services, LLC, to inspect your family's new home, we can help reduce the stress and provide you with the confidence that your decision to purchase will be a positive experience.
As a seller, the decision to have your home inspected can reduce the stress of the "what if's". What if the buyer discovered something during their inspection, how will you, the seller respond? By inspecting the home prior to the listing, any findings provide you with ample time to decide, should you have it repaired, or does it just need to be disclosed? These are questions you may discuss with your Real Estate Professional. Should you decide to have a reported condition corrected, you can not only choose which contractor, but also to what level you are willing to make the correction. In some cases, this can amount to several thousand dollars in savings to you at closing.
Whether you're purchasing a studio apartment or a 10-bedroom mansion, we get great pleasure from helping all our clients and give everyone the same high priority of service. Our narrative and NON-Biased reports are prepared using the latest 3-D inspection report writer software which is second to none in providing you with details on the type of construction and systems installed. If the home is more than a few years old, we may make suggestions on improvements that can be considered to increase the value of your most prized investments.
You are encouraged to attend the inspection and bring all questions large or small. Remember that just as in school, "no question is dumb." If you're unable to attend the whole inspection, you should make every attempt to be there for the remaining last half hour so we can review our findings and discuss your options should repairs be necessary. Our job is to help you understand the whole process of home ownership and most importantly, maintenance that will be needed to avoid costly repairs from neglect. We can also provide our services to investigate if general improvements are needed. Even if you're not selling, or perhaps your home has been shaken by a moderate earthquake, you may just want to know if there is anything that needs attention. All property inspections are conducted according to the §California Business and Professions Codes 7195-7199.


Questions To Ask When Choosing A Professional Inspector:
Related to home inspections, what associations does your past or current inspector belong to? Jeff is a certified member of the American Society of Home Inspections (ASHI), California Real Estate Inspections Association (CREIA). ASHI inspectors only recently became the only nationally recognized certification program of home inspectors. CREIA currently is working for the same recognition. These associations require a written test be taken at a "Proctored" site. Some associations pass their members by taking an "Online" and "Open Book" test.Additionally a minimum amount of inspections must be reviewed by our peers and continual education is required. Understanding your home inspector and there profession is a must to obtaining the best report your money can buy!
How long have you been inspecting homes? Jeff has been inspecting since 1995 with over 4000 inspections and building consultations.
Do you provide a narrative or check list report? Eagle One Services LLC provides a narrative report but both are valid reporting methods. A narrative report will not only provide you with the problem, but the implication as well.
How quickly will I receive my report? Eagle One Services LLC provides the report by emailed PDF format within 24 hours and sends a printed copy to you as well.
How quickly can you provide an inspection? This varies with all inspectors but typical is within 7-14 days during the busy spring season.
Do you carry Errors and Omissions Insurance? Eagle One Services LLC believes to inspect without it, can be financial suicide and is covered. This is not required by state or association mandates.
In closing, the final question that most clients would ask is what are the costs. This varies with all inspection companies but should be approximately $400-$500 for a small condo and $550-$650 for a small house. Most companies charge according to the square footage, age and additional components like guest homes, pools, or extra mechanical equipment. Remember though, just like most other things that cost you, "You get what you pay for". Low cost, can mean less information or a report that is not easily read. On something as important as your home, clarity and quality of the reporting is a must! You can get a home inspection that meets the minimum standards with minimum information or for a few dollars more you can get a report that is thorough, easy to read and tells you as much about the home as possible! Your families health and safety are my utmost concern and my education and experience will provide you with what you deserve.
Additional Information
Report System
Eagle One Services, LLC, provides its clients with the most comprehensive property inspection report possible by using the 3-D inspection report writer which uses digital color photographs.
A sample of our 3-D inspection report is provided by clicking here. Please note that the Acrobat Reader document viewer is required in order to view the report.
Experience – Licenses – Memberships – Affiliations
25+ Years Property Inspection Service, over 8500 inspections
American Society of Home Inspectors (ASHI) Member, No.243243
Past Chapter Secretary for California Building Inspectors Group, (CALBIG) local building officials
FLIR-ITC Level 1 and Building Sciences Certified Thermographer
Member of Western Construction Consultants Association (WESTCON)
Member of Forensic Expert Witness Association (FEWA)
Certified Roof Tile Institute Installer
Federal Emergency Management Agency (FEMA) Inspector, No.21718
California Office of Emergency Services (OES) Inspector, No.SAPV60192
International Association of Electrical Inspectors (IAEI) Member
International Code Council (ICC) Member
ICC Residential Building Inspector, No.1030906-B1
San Mateo County Association of Realtors Member
Past Regional Director for California Real Estate Inspection Assoc. (CREIA)
Past Silicon Valley Chapter CREIA President
Past Silicon Valley Chapter Representative to the California Coalition of Home Inspectors (CCHI)